Paint, Varnishes & Antifouling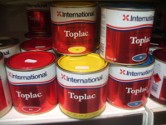 Marine Line stocks marine paint and finishing coats for wood, steel, aluminum and fiberglass along with the correct equipment and accesories.
We have a full range of International products. If you are not sure what you need, contact us and we can advise
Anti Fouling
Topside
Primers Sealers & Undercoats
Varnish
Teak Oils & Wood Finish
Thinners and Solvents
Paint Additives
Boating & Marine Supplies
We stock: marine paints, varnishes & antifouling, anchors,life rings, life jackets, fenders, lifting gear, safety harness.
Contact us today, we are happy to answer any of your queries, or offer advice on our extensive range of products.
Phone: 053-9120745
Email: sales@marineline.ie
Mobile: 087-9473844
Address: Ballygoman, Barntown, Co. Wexford